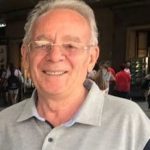 By Namik Mehmeti
Florence
We were a group of young teachers who had left Shkodra with its artistic, theatrical and sports vibrancy, to bring the light of knowledge to a difficult area in terms of terrain, in Mirdita and Ndrec Ndue Gjoka. As usual after the lesson it was the restaurant and the coffee bar that gathered us together to spend a few moments of relaxation and conversations from the most diverse. We were not a few from Shkodra, with veterans Rifat Juka, Kin Bacli, Faik Hoti, families persecuted by the communist dictatorship, as well as the youngest 20-22-year-olds, such as Xhelal Haxhi, Fran Xhuka, Ymer Striniqi, Gjovalin Dredhaj, Gjovalin Bajrami, Rudolf Mehilli, etc. scattered on the four sides of Mirdita, all these with a flaw in the biography.
And on one of the usual days, the monotony of our conversations was disturbed by the entry into the club of a smiling, energetic boy, no more than 22 years old, who was surprised when he approached, encountering a group of Shkodra residents we all knew. It was Rikard Larja, with whom we greeted and exchanged passing conversations in the high school premises, on the traditional laps in the Shkodra Piazza.
After greeting them, we placed them in our toilet, remembering the years of school and university youth. Ricard had just graduated from the Institute of Arts, to begin his career in theater and cinema.
-How well I had friends over time, we came to make a film for People's Teacher Ndrec Ndue Gjoka. Director Dhimitër Anagnosti has entrusted me with the main role, that of Dritan Shkaba. It's my first role, I have a lot of emotions, because the figure of a teacher has to be given truthfully – Ricardi started the conversation.
We felt very enthusiastic as one of our fellow citizens would be in a role that would highlight the values ​​of a large army in Albania, such as teachers, and we would occasionally have the young artist among us who would soon make a name for itself.
-This environment that I found here in Rrëshen, as if it is somewhat easing the burden I have on my back.
-Ricard, said one of the colleagues, you in Shkodra grew up in an intellectual family, where your father has produced whole generations of students and our youth teachers have been educated professors in Europe, so this role goes for the tradition of our city known for art and culture.
-So in words I say that I have it easy, but it is the first role and with the director Dhimitër Anagnosti it is not a play on words.
The conversation continued about this commitment of Ricard in the role of Dritan Shkaba when at one point he expressed enthusiasm.
-We need a figurant for this film, and I will choose two or three people from your group, but I will also talk to my superiors first.
-Don't forget this building in front of you, said Xhelal Haxhi with humor, alluding to the Party Committee.
Ricard smiled and looked us in the eye.
-As this is not discussed, but I believe that…
He did not finish the conversation and asked our permission to leave because his friends were ready to shoot, somewhere in the hills of Derven.
But we already got used to having Ricard with us and moreover we broke that monotony of the eve of the evening where Shkodra humor was not lacking.
In one of the next meetings Riakardi came enthusiastically.
-Everything is going well, and I am giving you the news that we agreed on the figurants, Xhelal, who will do two or three tests, as a physical education teacher.
Xhelal Haxhi was known as a volleyball player, basketball player with Student, Vllaznia and was a well-known sports family, where Professor Esat Haxhi had a life with sports.
Since I wrote from time to time in the periodical press of those years, I conducted the first interview with Ricard about the shooting of this film, an interview that was published in the newspaper Mësuesi and remained very grateful for this assessment, and even thanked me on behalf of the director.
Our friend Xhelali with those sequences he played became known throughout Albania by Ricardi.
In the years that followed for us Shkodra residents, Ricardi would always remain modest, respectful of sincere and sweet conversations, always radiating kindness and citizenship, and leaving a rich legacy of roles in theater and cinema.
I will also remember the meetings I had in 1975 when the film "Rrugicat looking for the sun" was shot, where the son of my uncle Qemal Mehmeti, an actor at the Skampa Theater in Elbasan and a director at the Kavaja House of Culture, both performed. connected a sincere society.