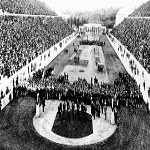 1896 – Athens officially celebrates the opening of the first modern Olympic Games, 1500 years after the original games were banned by the Roman emperor Theodosius I. These were the first international Olympic Games held in modern history. Organized by the International Olympic Committee (IOC), which was created by Pierre de Coubertin. They were dominated by the US team.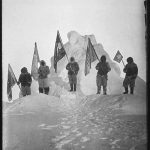 1909 – Robert Peary and Matthew Henson become the first people to reach the North Pole. Peary's claim is debatable due to failures in its navigation capability. The claim by the Peary team to reach the North Pole was widely debated in the newspapers at the time, as was the competitive claim by Frederick Cook. Their arrival in the Arctic was one of the greatest exploratory achievements of that period.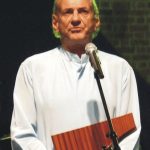 1941 – Gheorghe Zamfir is born in Gaesti. Zamfir, is a Romanian musician of the pan flute. He is also known as the greatest master of this instrument. His first appearance as a soloist in a soundtrack was in Vladimir Cosma in 1972, Le Grand Blond Avec  chaussure noire, whose soundtrack became a worldwide hit. Zamfir also starred in Ennio Morricone, Sergio Leone, and Quentin Tarantino.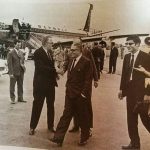 1957 – Greek shipyard Aristotle Onassis buys Hellenic Airlines Airlines (TAE) and founds Olympic Airlines. Olympic Greek Airlines, once called Olympic Airways for at least four decades, was Greece's flag carrier airline. The airline's headquarters were located in Athens. The airline operated services for 37 domestic destinations and 32 destinations worldwide.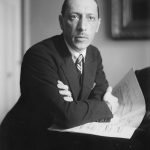 1971 – Igor Stravinsky, 90, dies. Stravinsky, was a Russian composer, pianist, and conductor. He is widely regarded as one of the most important and influential composers of the 20th century. Stravinsky's compositional career was notable for its stylistic diversity. His most internationally acclaimed works were The Firebird, Petrushka, and The Rite of Spring.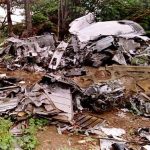 1994 – Genocide officially begins in Rwanda, when government aircraft carrying President Ruandas Juvenal Habyarimana and Burundian President Cyprien Ntaryamira are blown up. This terrorist act served as a pretext to start a civil war, accompanied by a massive ethnic cleansing, which was considered one of the most painful in the African continent. This genocide involved two ethnic groups, Hutu and Tutsi.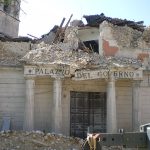 2009 – A magnitude 6.3 earthquake shakes the Italian city of Aquilas, killing at least 307 people and injuring more than 2,000 others. The quake affected all of central Italy, making it the deadliest earthquake to hit Italy since the 1980 Irpinia earthquake.